Looking for glitzy views and sexy drinks? Nightlife expert Mauricio from Vite Presente shares the best rooftop bars in Mexico City!
Mexico's vivacious capital city has long shed its bad reputation to become a cosmopolitan global hub that's home to many world-class museums, gourmet restaurants, and some of the best bars in the world. Mexico City now has a thriving nightlife scene that can rival that of New York, Singapore and London.
What better way to experience the city's nightlife than going up to the many rooftop bars in Mexico City — to sip a tipple or two, mingle with the well-heeled, and feast on stunning views of the city skyline. In this post, I've rounded up the best rooftop bars in Mexico City, from chic venues with top-notch cocktails to more relaxed spots with the best views in town.
Best Rooftop Bars in Mexico city
1. Cityzen Rooftop Bar
Perched atop the stunning Sofitel Mexico City Reforma, Cityzen Rooftop Bar has a stylish indoor lounge featuring panoramic windows and outdoor terrace that reveal sweeping views of Paseo de la Reforma and the Angel of Independence. It's also got an impressive food menu, which offers an enticing combination of luscious French and Mexican cuisine.
But it's the cocktails that make this my favorite rooftop bar in Mexico City. Helmed by famous bartender Chuy Duarte, Cityzen Rooftop is renowned for its classic and innovative signature cocktails, such as my personal favorite, the French Toast Carajillo (coffee cocktail). Each drink is expertly crafted using only the finest.
Prices are high here, but it's a great spot to celebrate a special occasion. It's one of the best spots to watch the Day of the Dead parade as it's right along the route. Find out the events schedule in my guide to celebrating Day of the Dead in Mexico City.
Opening Hours: Monday to Friday 1pm to 2 am. Saturday and Sunday 10am to 2am
Price Range: 300 – 600 MXN (US$15 – 30)
Location: Paseo de la Reforma
2. Bar Carlotta
Bar Carlotta, located on the 38th floor of the Ritz Carlton in Mexico City, offers the most spectacular view in all of Mexico City. From here, you can feast on a 360-degree panorama of Paseo de la Reforma, making it the perfect spot to see the Dia de Muertos parade! It's also just a hop from Parque Chapultepec, that's home to many of the best museums in Mexico City.
Bar Carlotta shares the space with the restaurant called Samos, which is also located on the 38th floor of the Ritz Carlton. One of the must-try drinks at Bar Carlotta is their signature cocktail, Margarita al Pastor. This unique drink is made with tequila, cilantro, spicy pepper liquor and cilantro.
Opening Hours: Sunday to Thursday 12pm to 12 am. Friday and Saturday 12pm to 1am
Price Range: 350- 700 MXN ($17.5 – 35) per person
Location: Paseo de la Reforma
3.Toledo Rooftop
This trendy bar and restaurant is situated at the top of a regular housing apartment, but don't let that fool you – once you step onto the rooftop, you'll feel like you're in a completely different world.
During the day, Toledo Rooftop operates as a regular restaurant, serving up creative cuisine with a modern twist. Created by chef Oscar Valdez, Toledo Rooftop's menu features "Baja Med" fusion, a fascinating fusion of Asian, Mediterranean, and coastal Mexican gastronomy. But when the sun sets, the rooftop transforms into a vibrant rooftop bar with nightclub vibes. The DJ starts playing some good electronic music, the lights start flashing, and the party gets started.
If you're planning on checking out Toledo Rooftop, be sure to make a reservation in advance and dress fancy. This place fills up fast, and you don't want to miss out on the party. This bar definitely deserves a spot on our list of best Mexico City rooftop bars.
Opening Hours: Sunday to Monday 1pm to 12AM Thursday to Friday 1pm to 2AM
Price Range: 300 – 800 MXN ($15-40)
Location: Av Chapultepec 461, Juárez neighborhood
4. Supra Rooftop
Avenue Alvaro Obregon in the heart of Roma Norte (one of the best areas to stay in Mexico City) is known for its vibrant nightlife and sophisticated bars. Among them is Supra, one of the newest rooftop bars in Mexico City. Supra is the latest venture from the owners of Toledo Rooftop.
Supra Roma is not just about food and drinks, it's also a social joint designed specifically to provide a sensory experience through music, gastronomy, and mixology. This bar features art pieces from local and international artists, carefully curated to enhance this upscale atmosphere.
Opening Hours: Sunday to Wednesday 1pm to 12am. Thursday to Saturday 11am to 1 am
Price Range: 300-600 MXN ($15 -30)
Location: Roma Norte
5. Terraza Círculo Mexicano
If you are looking for a rooftop bar in Mexico City's historic center, then you must check out the rooftop bar of Circulo Mexicano hotel. Located right by the Zocalo, La Terraza boasts breathtaking views of the Catedral Metropolitana, Palacio Nacional, Templo Mayor, and Torre Latinoamericana.
Terraza Círculo Mexicano goes beyond being just a rooftop bar by offering a culinary experience that complements the spectacular setting. Indulge in a range of delectable dishes and appetizers that showcase the flavors of Mexico, combining traditional ingredients with contemporary culinary techniques.
The bar's ambiance is meticulously designed to create a sophisticated and stylish atmosphere. Circulo Mexicano is one of the best hotels in Mexico City; so book a stay here and you'll get to hang out at its rooftop bar every night!
Opening Hours: Monday to Sunday 12pm – 12 AM
Price Range: 250-500 MXN ($12.5-25)
Location: Centro Histórico
6. Madre Rooftop
Welcome to Madre Roof, the new trendy spot for high cuisine in the heart of La Roma neighborhood! Machu y Bros, the same geniuses behind the Madre Café in La Condesa, created this rooftop bar on the top floor of an old 1920s house. You can't miss the three palm trees at the entrance, which were planted when the first family arrived 100 years ago and represent each of the family's daughters.
At Madre Roof, mixology is just as important as the cuisine offered by the classic Madre Café. They make sure to offer unique and innovative cocktails, such as the Kikiriskiaga, a blend of Appleton, Campari, peach juice, orange twist, basil, and lavender syrup. Also make sure to try the ALV (Algo lindo vendrá), which not only looks beautiful but also has a delicious taste of pineapple concentrate and bergamot mixed with Malfy Pink gin.
Opening Hours: Monday to Sunday 2pm to 1:30 am
Price Range: 300-800 MXN ($15-40)
Location: Roma Norte
7. Balmori Roof Bar
What sets Balmori Rooftop Bar apart is its enchanting rooftop garden oasis. The bar features a beautifully designed green space filled with plants, trees, and flowers, and even stars on its roof. In spring time (which is the best time to visit Mexico City), the flowers are blooming and the weather is glorious, perfect for sitting in the outdoor area. This lush setting provides a serene escape from the bustling city below, making it an ideal spot to unwind and relax.
The bar seamlessly blends nature and urban elements, with its stunning vertical gardens and contemporary structures. This harmonious integration of nature and modern design creates a visually striking environment that is both aesthetically pleasing and captivating.
Opening Hours: Monday to Sunday 2pm to 2am
Price Range: 500-800 MXN ($25-40)
Location: Roma Norte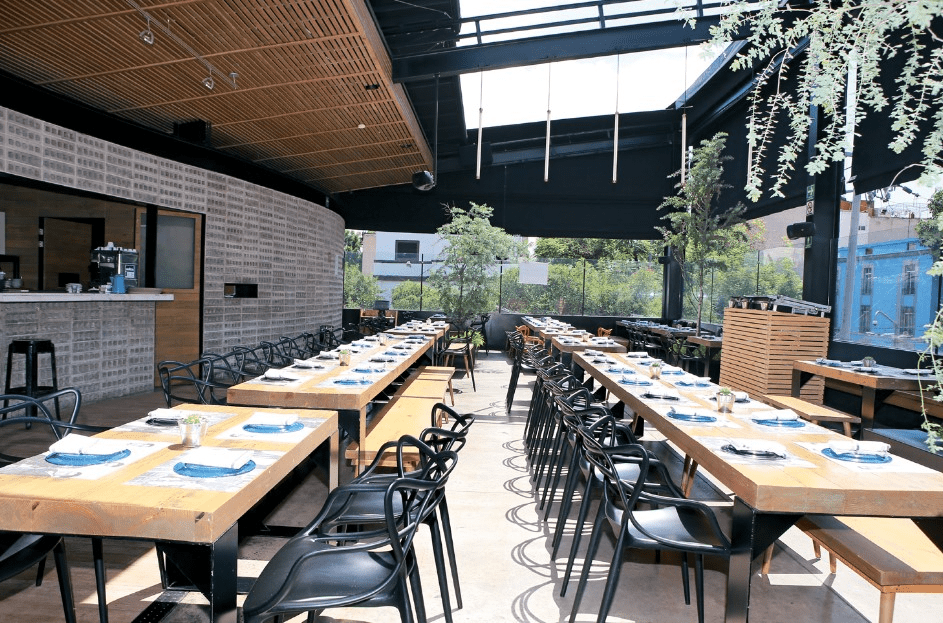 8. Downtown Mexico Rooftop Bar
From the Downtown Hotel Terrace Bar, you can marvel at the majestic churches, the iconic Torre Latinoamericana, and the captivating facade of the Casino Español, among other architectural gems. This rooftop oasis is the ultimate venue for hosting special events and unwinding with a refreshing drink.
Situated atop the luxurious Downtown Hotel, this rooftop terrace serves as a haven for hotel guests, offering a poolside retreat, as well as a trendy bar open to all. Immerse yourself in the modern and vibrant ambiance while savoring a wide array of handcrafted cocktails and indulging in delicious Mexican delicacies carefully curated for your enjoyment
Opening Hours: Monday to Sunday 2pm to 12am
Price Range: 300-500 MXN ($15-25)
Location: Centro Histórico Mexico City
9. Terraza Catedral
Delightfully perched atop the Hostel Mundo Joven Catedral, Terraza Catedral has the best location in this list of rooftop bars in Mexico City. Situated just steps away from the awe-inspiring Metropolitan Cathedral, the largest and oldest cathedral in Latin America, the bar treats you to stunning panoramic views that will take your breath away.
Its spacious and playful decor sets the perfect ambiance, complemented by a menu offering Mexican bites, juicy burgers, and expertly crafted signature cocktails. Talented DJs effortlessly transition between US hip-hop, Latin rock, and European dance tunes. Be sure to plan ahead, as some events require advance tickets and tend to sell out quickly. Make sure to include this in your Mexico City itinerary!
Opening Hours: Monday to Sunday 1pm to 11pm
Price Range: 200-500 MXN ($10-25)
Location: Centro Histórico Mexico City
10. Terraza Cha Cha Cha
With spectacular views of the Monumento a la Revolución, this trendy rooftop bar not only boasts unbeatable city views, but also exudes a tropical-themed ambiance. The bar is inspired by the spirit of the Caribbean. With colorful decor, lush greenery, and relaxed seating arrangements, it transports guests to a tropical paradise within the heart of the city.
To enhance the energetic ambiance, Terrazza Cha Cha often hosts live music performances and entertainment. Guests can enjoy the rhythms of Latin music, reggae, or other genres that complement the tropical theme. These lively performances create a dynamic and festive atmosphere, making the bar a hub of entertainment.
Opening Hours: Monday to Saturday from 1pm to 12am Sunday 1pm to 7pm
Price Range: 300-800 MXN ($15-20)
Location: Monumento a la Revolución
---
Enjoy the Mexico City Nightlife!
I hope you've enjoyed our curated list of the best rooftop bars in Mexico City. If you want to truly experience the nightlife in Mexico City with a local expert, I highly recommend this Mexico City Bar Crawl offered by my friend Mauricio Vite. In this 4-hour experience, you will learn about what goes on at night in this dynamic city, experience some of the coolest bars in Mexico City, and make new friends along the way!
---
Planning A Trip to Mexico City?
Which of these rooftop bars in Mexico City have you been or are going to try? Let me know if I missed out anything. I'd be more than happy to help you plan your Mexico City trip!
Read my articles on Mexico below:
Disclaimer: This post contains affiliate links i.e. if you make a purchase or booking through one of my links, I get a small commission at NO EXTRA COST to you. Thank you for your support!
---
About the Author: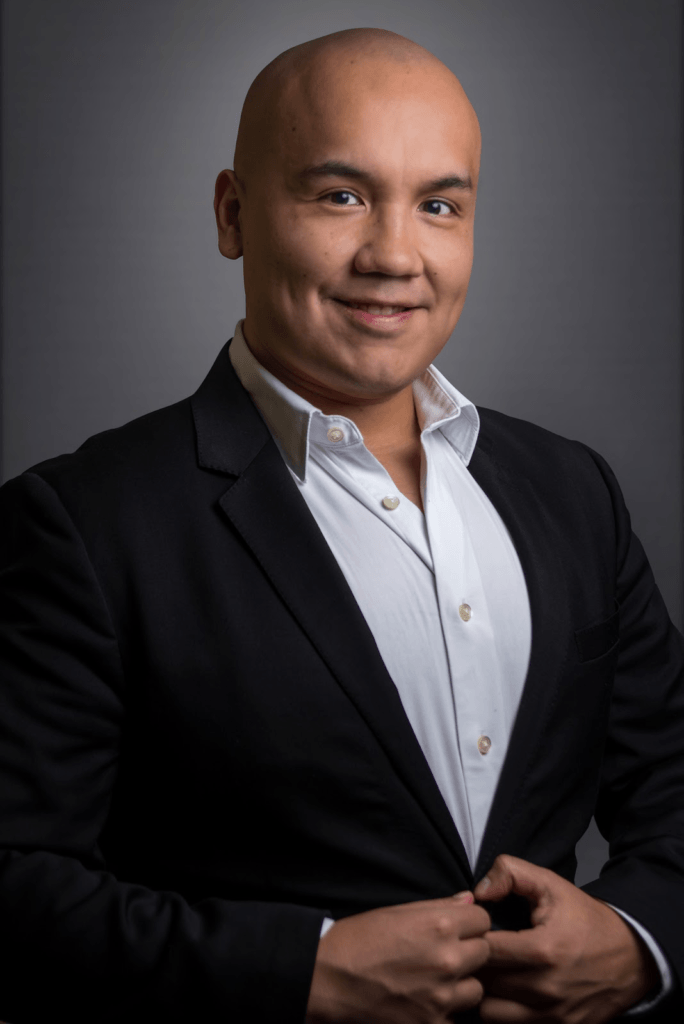 Mauricio Vite is an Experiences and Workshops Organizer in Mexico City. He founded Vite Presenta, a website specializing in nightlife and mixology events. He is also a travel and entertainment blogger sharing insights about Mexico City and his travels in the USA.
---
Inspired? Pin it!